Cllayees Set of 2 Metal Easter Bunny Tabletop Decoration, 6.7 Inches Standing Bunny with Bells for Home Room Table Easter Decor
Posted On November 29, 2020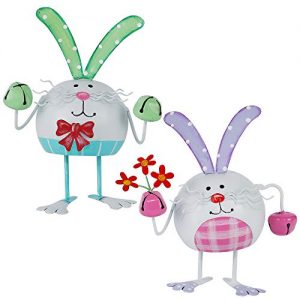 Brand: Cllayees
Price: 16.99 & FREE Returns
Easter Bunny Decor – Set of 2 Metal Easter Bunnies, one is in the color of purple and the other is green. Each measures 6.7 x 6.3 x 3.5 inches, 4.9 oz. They are ideal tabletop decoration for Easter.
Attractive Bell Sound – The Easter Bunny holds 2 bells, in which there is 1 inner steel ball. The spring inside the body make the rabbit wobble and the bell ring when you gently push the metal bunny. The loud and clear sound as well as bright colors can capture baby's attention easily.
Best Craft – Our Metal Easter Bunny Set is smooth polished without burrs, making them smooth to touch and safe for your kids to play with. The two sturdy metal legs allow the bunny to stand firmly on the tabletop without wobbles.
Best Quality – Our Metal Easter Bunny Set is made of durable metal and high-grade coating with an emphasis on quality and attention to detail. The special process makes the bright colors not easily fade.
Widely Application – Our Easter Bunnies Tabletop Decoration can be used indoors and outdoors. Bedroom, living room, office, garden, porch and anywhere you want. It will magically fill your room with an odor of Easter vitality. They are perfect gift for Easter, birthdays, kids, toddlers and any other occasions.